Log in to post a reply
Sep 13, 2017 10:47AM Anneb1149 wrote: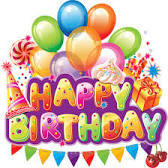 Happy Birthday, Jackie
Hope your day goes exactly the way you want it to!
You deserve only the best. You are the glue that keeps all us crazy peopletogether!
Thank you for being you and always, always encouraging and supportive.
You have walked with me through some of my darkest moment during my tx, and you have also helped me thru all the craziness that is in my life.
Anne
Dx 9/25/2013, IDC, 1cm, Stage IIIA, Grade 2, 3/9 nodes, ER-/PR-, HER2+
Targeted Therapy 10/3/2013 Herceptin (trastuzumab)
Targeted Therapy 10/3/2013 Perjeta (pertuzumab)
Chemotherapy 10/9/2013 Taxotere (docetaxel)
Surgery 1/27/2014 Lymph node removal: Right, Underarm/Axillary; Mastectomy: Left, Right
Radiation Therapy Breast, Lymph nodes