Log in to post a reply
Oct 17, 2020 05:33PM Beesie wrote:
gds, welcome!
With an ER+/PR+/HER2- grade 1 tumor and being node negative, it's unlikely that you will require chemo. But given the T2 size, I expect that the MO's decision will be made based on the results of an Oncotype test.

Here is some info about the test: https://www.oncotypeiq.com/en-US/breast-cancer/patients-and-caregivers/stage-i-iiia-invasive/about-the-test
Although your pathology suggests that a low or intermediate score is most likely - which at your age (63, as per your other post) would mean no chemo required - sometimes there are surprises. So chemo is a possibility, although a low one.

Certainly being ER+, endocrine therapy (estrogen blocker) will be recommended. And yes, Rads is also sure to be recommended, since you had a lumpectomy.

The NCCN treatment guidelines are the gold standard guidelines used by most doctors in the States (and elsewhere). Here are the two pages that are relevant to your diagnosis, in terms of what comes next: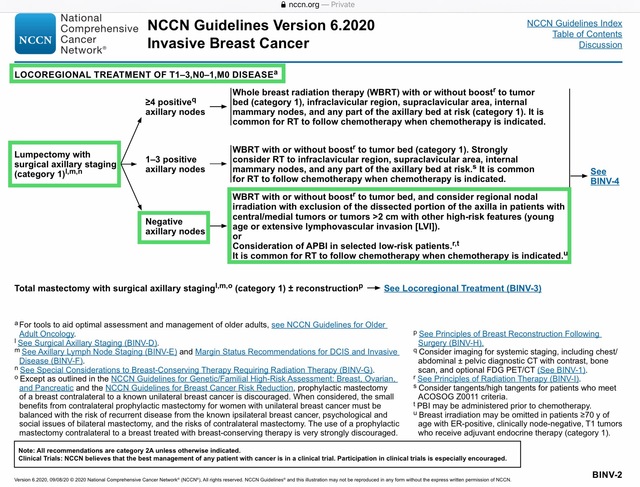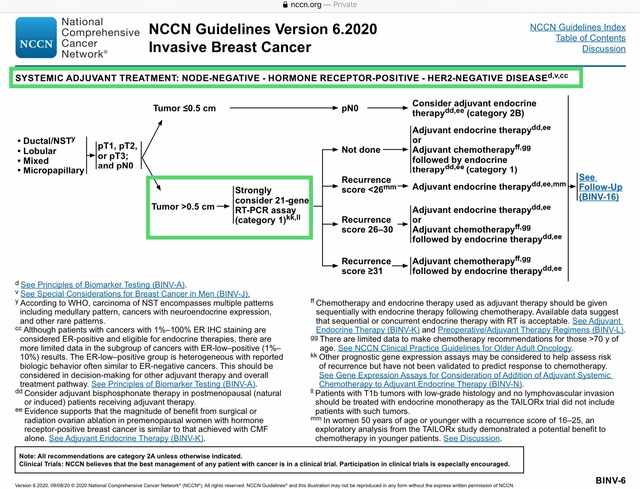 Note that the "21-gene RT-PCR assay" is the Oncotype test.

As for the hematoma, I know that they are usually left until they re-absorb and I don't have any helpful hints to get it to absorb faster. I had a hematoma develop once after a biopsy. I was developing so many large cysts in those days that my surgeon aspirated it, thinking it was a cyst. We were both a bit surprised when the aspiration fluid was red. I don't think aspirations are usually done, although in my case it worked out fine and the hematoma never refilled. Hopefully someone else comes by with some suggestions (but weekends tend to be slow around here).

There are lots of helpful threads on this site about getting through rads and dealing with hormone therapy (which is what it's often called although it's really anti-hormone therapy). As you get closer to starting those treatments you should search out those threads.

Dx 9/15/2005 Right, 7cm+, DCIS-Mi, Stage IA, Gr 3, 0/3 nodes, ER+/PR- ** Dx 01/16/2019 Left, 8mm, IDC, Stage IA, Gr 2, 0/3 nodes, ER+/PR-, HER2- (FISH) ** Surgery 11/30/2005 MX Right, 03/06/2019 MX Left ** Hormonal Therapy 05/2019 Letrozole