Log in to post a reply
Nov 21, 2020 09:43AM Beesie wrote:
CB, so sorry that you were diagnosed and have had to join us here.
Do you have your pathology report? More information about your diagnosis would be helpful to better understand your situation.
Your comment, "The score came back 19 out of 100, which means there's a 6% chance of it coming back, but that percentage doubles every 10 years" isn't completely accurate. For ER+ cancers, significant recurrence risk continues through to about 20 years, so the 9-year recurrence risk figure that you received from the Oncotype test certainly doesn't reflect your total lifetime recurrence risk, but your risk absolutely will not double every 10 years. It may double once, but at that point you will be approaching 20 years post-diagnosis and the risk from that point forward will be quite small (however there will always be some risk). So a 9-year risk of 6% might translate to something like a 14% or 15% lifetime risk, I would think. This is something you should get clarification on from your Medical Oncologist.

You also said that "The type of cancer I had only responds to hormonal therapy" which would not be true. ER+ cancers respond well to hormone therapy, but they do also respond to chemo. This is why for lower risk ER+ cancers, hormonal therapy alone is prescribed, but for higher risk ER+ cancers, both chemo and hormone therapy are recommended.

Lastly, about the Oncotype test. At your age, you fall into the "Under Age 50" category. From the TAILORx study, which is what the Oncotype recurrence risks are based on, it appears that for the average patient under age 50, a 19 score confers a 6% risk with hormone therapy alone and about a 4% risk with chemo + hormone therapy.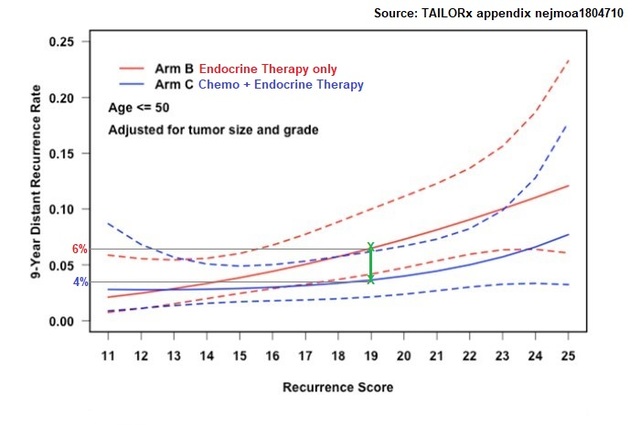 The issue for you is that at age 30, you are considerably younger than the average patient in the "under age 50" group, and age does matter. There is a separate computer model that your Medical Oncologist can run called the Oncotype RSPC Model (Recurrence Score Pathology Clinical). This model is available only to MOs; they can access it on their computers and it only takes 2 minutes to run it. The model comes from Genomic Health, the Oncotype company. What the model does is it takes your Oncotype 19 score and then recalculates your recurrence risk by factoring in your age, the size of your tumor and the grade of your tumor. The model then provides a new recurrence risk figure for your 19 score that is more specific to you. Your age, being so much younger than the average, would definitely cause your recurrence risk to go up from the 6%. I don't know your tumor size or the grade. If I recall correctly, the average tumor size is 1.75cm, so if your tumor is larger, that will also increase your risk, but if your tumor is smaller, that might lower the risk. The average grade is grade 2, so here again, if your cancer is grade 3, that will increase your risk whereas if your tumor is grade 1, it will lower your risk. Without knowing these other factors, it's impossible to guess what your RSPC recurrence risk would be with a 19 Oncotype score - whether it would remain at around 6% or whether it would increase - but I would strongly recommend that you ask your MO to run this model. If it turns out that your risk is considerably higher than the 6% average risk for anyone under age 50 with a 19 score, that might make your decision on chemo much clearer.

Hope that this helps. And please, let us know more about your diagnosis.

Dx 9/15/2005 Right, 7cm+, DCIS-Mi, Stage IA, Gr 3, 0/3 nodes, ER+/PR- ** Dx 01/16/2019 Left, 8mm, IDC, Stage IA, Gr 2, 0/3 nodes, ER+/PR-, HER2- (FISH) ** Surgery 11/30/2005 MX Right, 03/06/2019 MX Left ** Hormonal Therapy 05/2019 Letrozole