Log in to post a reply
Nov 20, 2017 02:01PM - edited Nov 20, 2017 02:08PM by SpecialK
OK, here goes. The Thanksgiving itself was non-eventful, but I have a related tale. This was in the mid-90's, my husband was active duty military and we were living in southeastern Virginia. It was cold out and I had a turtleneck on under a V-necked sweatshirt, sweatpants, and Birkenstocks with socks on - tres glam! This was the Monday evening after Thanksgiving and I was finishing up cooking the leftover turkey carcass, making stock for turkey soup. It was about 9pm, and I decided to strain the hot stock through a colander into a storage container, let it cool, put it in the fridge and be done for the night. Bad idea. My DH was upstairs studying for a test, my 5 and 6 year-old were asleep. As I poured the hot stock - with the fat floating on top, out of the tall pot with little handles, it spilled over the edge and burned my hand. Like an idiot I let go because I was so surprised and more spilled, and ran onto the floor. I slipped backwards and fell on the floor, totally let go of the stock pot, and ended up with a couple of gallons of hot stock soaked up by my sweats and in the hollows of the Birkenstocks, which were being held on by wet socks. There were random turkey parts and a lake of stock on the floor, I was on my hands and knees scrambling around trying to pull off my sweatshirt. I started screaming, DH ran downstairs thinking I was being attacked, arrived in the kitchen, where it took him a minute to figure out what was happening. In one swift chivalrous move, he closed the kitchen blind and pulled the stock soaked sweatshirt off of me, I ran upstairs and got in a cold shower. DH called a friend to stay with our kids, and bundled me into the car to the military hospital ER. I had deep 2nd degree burns over 25% of my body - my hand took the worst, followed by my chest and torso, left leg and foot. They iced me for a while, assessed, and then sedated me and dressed the burns. DH took me home at about 3am, and like the saint he is, washed turkey bits out of my hair because I was getting sick at the smell, and cleaned up the kitchen. I spent the next month (between Thanksgiving and Christmas - no, I wasn't busy at all...) having my hand debrided and re-dressed, not being able to drive my stick-shift car, or use my gauze wrapped right hand, which looked like a club. Needless to say, I have an aversion to large pots of boiling anything, and I never make turkey soup after Thanksgiving anymore!
This photo was taken a couple of weeks later at a squadron holiday party, I'm hiding my bandaged arm behind DH.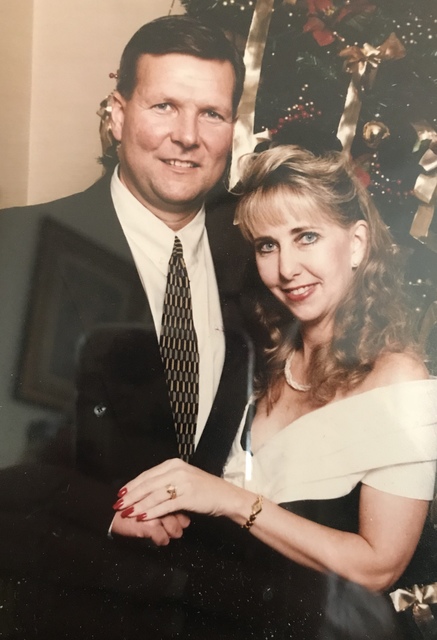 BMX w/ TE 11/1/10, ALND 12/6/10. 16 additional surgeries. TCHx6 2/17-6/2/11. Herceptin until 1/19/12. Femara 8/1/11, Arimidex 6/20/12, back to Femara 2013-2018.
Dx 9/27/2010, DCIS, Stage 0, Grade 3
Dx 9/27/2010, IDC, Right, 2cm, Stage IIB, Grade 3, 2/14 nodes, ER+/PR+, HER2+ (IHC)