Log in to post a reply
Feb 4, 2020 03:47PM Beesie wrote:
My understanding is that the recurrence risks are the same for everyone on the standard report, within certain groupings. Part of why you seen differences in what people say on this site is because the Oncotype numbers changed once the TAILORx study came out. The study came out in July 2018 but I'm not sure when the new lower recurrence rates were incorporated into the standardized reports. So those with earlier results will have higher recurrence rates on their reports than those with more recent results. Since TAILORx, there also are different results by age, with one set of recurrence figures for those 50 and under, another set for those over age 50. Lastly, there are also different recurrence rates for those who are node positive.
This graphic was on the Oncotype website after the TAILORx study came out (but has since been removed) and you can compare the original recurrence risks associated with each score (the green section in the top chart) with the new risks from the TAILORx (the lower chart). A 25 score used to have about a 12%-13% recurrence risk (it's hard to be precise with the small chart) with Tamoxifen alone and 7%-8% when chemo was added, but after TAILORx, the risk at a 25 score appears to be 7%-8% with Tamoxifen, with or without chemo.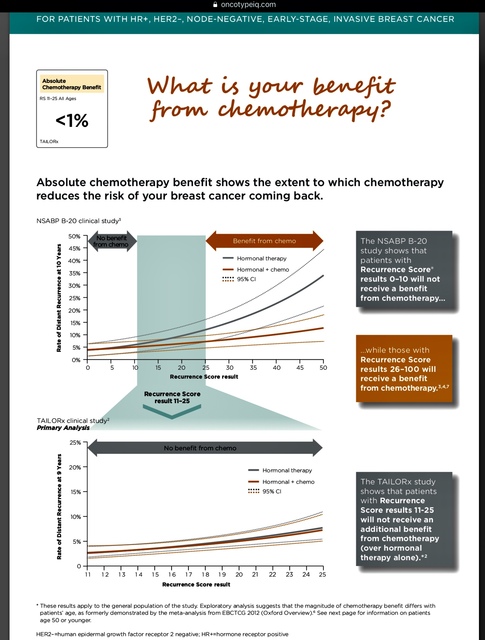 As for your calculation of the benefit of Tamoxifen, from what my MO told me and from what the research studies say, the amount of metastatic risk reduction from Tamoxifen is closer 33% (about one third) than 40%. So a 9% recurrence risk assuming you take Tamoxifen would calculate to approx. a 13% recurrence risk without Tamoxifen.
"No power so effectually robs the mind of all its powers of acting and reasoning as fear." Edmund Burke