Log in to post a reply
Apr 25, 2018 02:40AM TaRenee wrote:
Last year just before Easter I lost my Persian, Tacey, to kidney disease. She was 16 and was a sweet companion. Two years ago I rescued my vampire cat, Merlin, and he has been a great help.
When Tacey died I was pretty distraught. I cried for months. I had her cremated so I could always have her with me. When I finally got to the point where I could, I sent her ashes in to have a memorial piece made. It takes about 2 months to get them back usually but the artist wasn't on vacation so it took a bit longer. I was diagnosed with cancer and had my BMX and the DAY I got home from surgery there was this box in the mail. My memorial came home for me when I needed her most.
I can't begin to tell you what that meant to me. Timing was amazing on that. I couldn't lift it at the time, it's too heavy, but I could hold it. It was like Tacey knew and waited to come home when I needed her most. So now I have her ashes in her carved wooden box, and a beautiful memorial piece that I can now hold to remember her.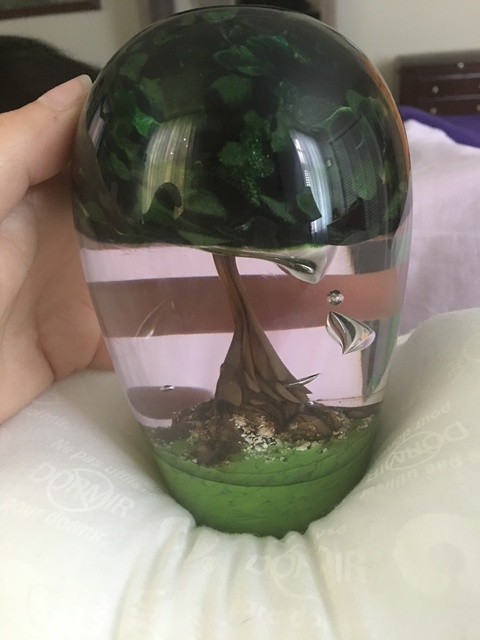 This is my Tree of Life Glass memorial. The white at the base is the tree are the ashes they used to blow into the glass.

Dx 7/29/2017, IDC, Left, 2cm, Stage IIA, Grade 1, 0/4 nodes, ER+/PR+, HER2-
Surgery 9/13/2017 Lymph node removal: Sentinel; Mastectomy: Left; Prophylactic mastectomy: Right; Reconstruction (left): Tissue expander placement; Reconstruction (right): Tissue expander placement
Hormonal Therapy 9/25/2017 Tamoxifen pills (Nolvadex, Apo-Tamox, Tamofen, Tamone)
Surgery 3/28/2018 Reconstruction (left): Silicone implant; Reconstruction (right): Silicone implant