Log in to post a reply
Jul 2, 2019 08:14PM Fairchild wrote:
Oh, y'all, these pictures are so great! Glad you see black kitties as really special, too, and thanks for the complements on my Dobby-boy! "Lovebug" is the perfect word to describe the lad! And, BTW, here he is in his Christmas hat!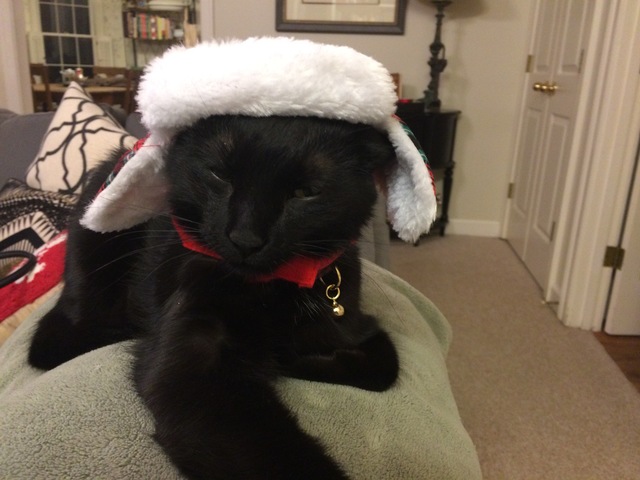 Fairchild
Dx 5/5/2018, ILC/IDC, Both breasts, 2cm, Stage IIA, Grade 3, 0/2 nodes, ER+/PR+, HER2+ (FISH)
Surgery 7/25/2018 Lymph node removal: Sentinel; Mastectomy: Left, Right; Reconstruction (left): Silicone implant, Tissue expander placement; Reconstruction (right): Silicone implant, Tissue expander placement
Chemotherapy 9/6/2018 Carboplatin (Paraplatin), Taxotere (docetaxel)
Targeted Therapy 1/8/2019 Herceptin (trastuzumab)
Targeted Therapy 1/9/2019 Perjeta (pertuzumab)
Hormonal Therapy Femara (letrozole)