Log in to post a reply
May 3, 2012 10:12AM NativeMainer wrote:
Good morning, Loungettes! I was hoping for some sun today, looks like I'm going to be dissapointed that way. Ah well, such is life. Chilly in the again this am. May and I still have to run the furnace for heat! Yeesh!

Mema--losing a post is the pitts! Lots of fukitols for you, and lots of dwinkies of your choice, not to mention the tender of your choice.
Regarding Maypoles and maypole dancing--does anyone realize that the whole thing is a pre-Christian fertility celebration? Done in the spring to insure a good growing season. The pole is a phallic symbol, the woven streamers are a female symbol. I bet no one in our schools knew any of this!

"The earliest use of the Maypole in America occurred in 1628, where William Bradford, governor of New Plymouth, wrote of an incident where a number of servants, together with the aid of an agent, broke free from their indentured service to create their own colony, setting up a maypole in the center of the settlement, and behaving in such a way as to receive the scorn and disapproval of the nearby colonies, as well as an official officer of the king, bearing patent for the state of Massachusetts. Bradford writes:
"They also set up a May-pole, drinking and dancing about it many days togaether, inviting the Indean women, for their consorts, dancing and frisking togither, (like so many fairies, or furies rather,) and worse practises. As if they had anew revived & celebrated the feasts of ye Roman Goddes Flora, or ye beasly practieses of ye madd Bacchinalians." Wikipedia

DorKable--I hear you about the medical debt thing. I've got an unopened bill sitting on my desk. Not sure I want to know what it is, even though I've met my deductible and out of pocket for the year, I still get bills. Cannot figure it out. Wish I was rich enough to drop all insurance and pay directly, then I could negotiate discounts and such. Sigh.
Wahine--getting stuff ready to pack and then dwinking while packing sounds like a great way to go! Gonna remember that for next time I have a trip to pack for!
Good morning, LORD, it's me again. Can I ask YOU to look out for Melinda? She's got the scary c-diagnosis and going to have surgery, probably today if I've got the timing right from Wahine's post. She and her parents could use YOUR strength and peace. Please guide the docs during her surgery and her care, please arrange for her to land in the "cured" column when this is all over. Thanks, LORD, appreciate YOUR time in this.
DorKable--I've found a few things trigger hot flashes, too. Dwinks with alchohol in them for one. Being in a warm place with no air movement is another. Haven't been in a hair dryer so don't know about that one but I wouldn't be surprised! And speaking of soy--I was looking at margarines in the store the other day (since that's supposed to be better than butter for cholesterol/fat intake) and could only find 2 that weren't soy based. I know soy is probably ok, but I just cannot bring myself to eat stuff that is almost totally soy. I guess I'm more afraid of the rat ba$tard than I am cholesterol. Neat stuff about the Amityville house. I read somewhere it was torn down, do you know if that's true?

Vodka kitteh is right, It's 5 o'Clock somewhere, always!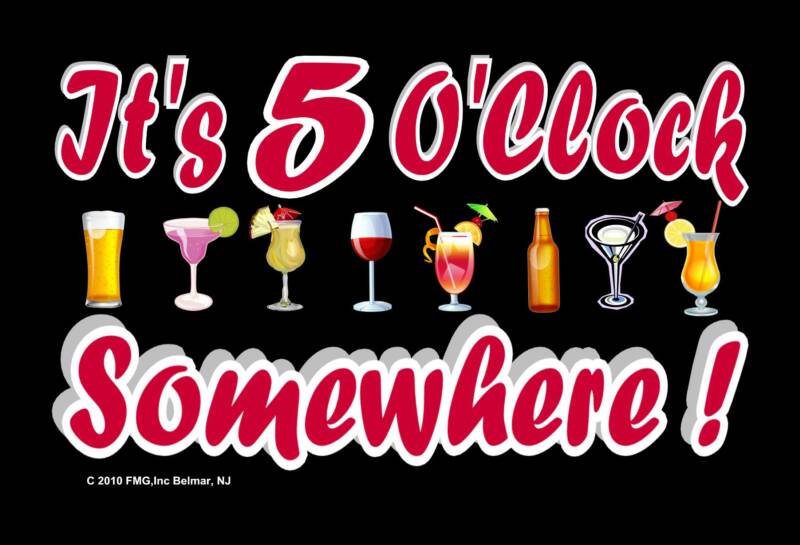 Karen--You might want to try taking the calcium and magnesium at night rather than in the am, the combo is very relaxing and will help you get to sleep. Add magnesium in slowly, it can cause diarrhea and tummy upset big time--magnesium is the basis of a lot of laxative, Milk of Magnesia being one of the best known. Taking Vit D with Omega 3 is a good move, the D needs the fat from the Omega 3 to be absorbed. Have you ever had a blood clot? If you have be cautious with the Vitamin K. On the other hand, if you bruise easily or bleed a lot when cut the Vit K is a good thing to take. I'm sure you'll get the summer schedule all worked out somehow. What did you decide about the wedding, going or not? Happy birthday to DD, and Hooray for school counting down! Almost done!
Bernie--LOL!!
Juliet-- I need to memorize that prayer!
Princess Glitter Sizzle's DOTD is the Kill the Rat Ba$tard
1 part Midori Melon Liqueur
1 part Vodka Vodka
1 part Amaretto
1 part Coconut Rum
1 part Sloe Gin
1 part Cranberry Juice
Directions
Pour equal parts into a mug/glass. Add the alcohol first, then add the cranberry juice last. This drink may be mixed/stirred, but it isn't required.
dx 3/07, Stage 2, Grade 2 IDC, 2.8cm, ER+PR+, Her2(-), SN-, lumpectomy & rads, mastectomy 8/15/08, right prophy mast and bilateral DIEP recon 6/21/10
Dx 3/9/2007, IDC, 2cm, Stage IIA, Grade 2, 0/1 nodes, ER+/PR+, HER2-
Surgery 3/15/2007 Lumpectomy: Right
Surgery 3/29/2007 Lumpectomy: Left
Radiation Therapy 4/10/2007 Breast
Hormonal Therapy 10/5/2007
Hormonal Therapy 4/25/2008 Arimidex (anastrozole)
Surgery 8/15/2008 Mastectomy: Left
Surgery 6/21/2010 Prophylactic mastectomy: Right; Reconstruction (left): DIEP flap; Reconstruction (right): DIEP flap