Log in to post a reply
Apr 5, 2021 06:02PM ChiSandy wrote:
DOTD and Tree of the Day: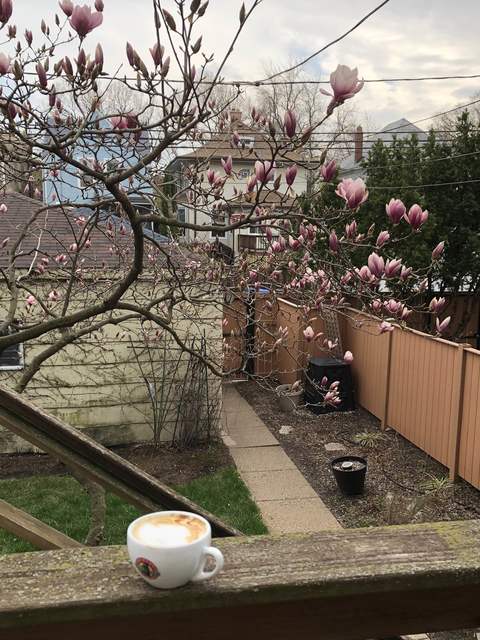 That's my cappuccino (half unsweetened vanilla almond milk, half whole FairLife) in the foreground; background is my magnolia, beginning to bloom nearly 3 wks early! Tomorrow it may hit 80F, so the tree may burst into full bloom. (Singer-songwriter Annie Gallup used to sing about her grandma's magnolia "bursting into teacups" each spring, because to her the fully-opened magnolia blossoms resembled fine china teacups).
Diagnosed at 64 on routine annual mammo, no lump. OncotypeDX 16. I cried because I had no shoes...but then again, I won't get blisters....
Dx 9/9/2015, IDC, Right, 1cm, Stage IA, Grade 2, 0/4 nodes, ER+/PR+, HER2- (IHC)
Surgery 9/23/2015 Lumpectomy: Right
Radiation Therapy 11/2/2015 3DCRT: Breast
Hormonal Therapy 12/31/2015 Femara (letrozole)