Log in to post a reply
Oct 27, 2017 10:14AM - edited Nov 1, 2017 01:23PM by Travel_Girl
After pictures - (I didn't take any before and I was in a hurry to get started and no time to prep -- my hair is thin to begin with - always has been and then got thinner years ago with prior Breast Cancer treatment -- ER+ -- shut down my ovaries at 36 years old for 5 years).
I am thrilled w/ the cold capping results - cause I still have hair!!! 4 of 4 Rounds of TC, Dignicap. Day 3 post final Chemo.
I know that I will still have shedding to go, just doing a little chair dance and celebrating today.
It is not perfect, if you adjust your expectations of perfect, you will be happy. I typically dye my hair bayalage style, get touch ups every 3-4 weeks and use product & wavy curls to make it appear thicker (alternating with updos -- cause I can make it look like more hair up in a bun). Finding a style that works with this process has been a challenge, with every day bad hair days -- I will STILL take it. I have been wearing mostly a low pony tail w/ a rocking 80's scrunchie.
I have thin spots on top and lots of roots (see arrows, that appeared after 2nd dignicap first freak out...I am ok w/ it now).
I am using mostly Blonde Toppix to help with both thin and grays. I have tried many colors and different powders, sometimes, I use a mix, mostly just settled on the blonde -- by the time I wash my hair again in a few weeks, it will be more even tone as I add more topixx when needed.
I hope this post helps someone decide to use cold caps -- this is no product, no styling, 48 hour chemo wash -- still kind of damp -- just feels oohhh soo good to get the chemo rinsed out.
I can make it look more stylish - just not going for it today.
I am sure if you have thicker hair and less gray, you will be even happier. Once again, I am thrilled to have hair after the evil taxotere -- big, big, big smile. Happy Capping.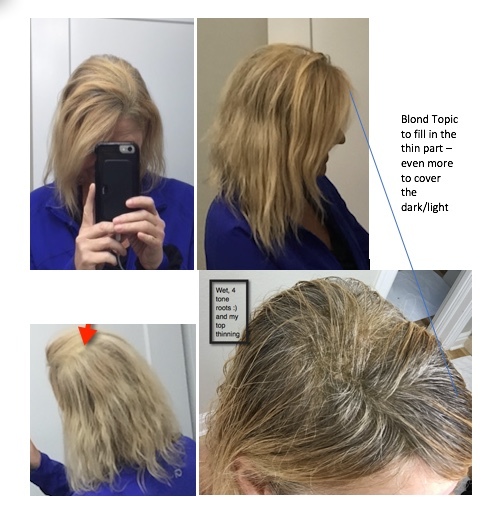 Dx 2/6/2006, IDC, Left, <1cm, Stage IA, Grade 1, 0/1 nodes, ER+/PR-, HER2-
Surgery 2/10/2006 Lumpectomy; Lymph node removal: Sentinel
Radiation Therapy 4/1/2006
Hormonal Therapy 6/1/2006
Dx 8/4/2017, IDC, Right, 1cm, Stage IA, Grade 2, ER-/PR-, HER2- (FISH)
Chemotherapy 8/24/2017 Cytoxan (cyclophosphamide), Taxotere (docetaxel)
Surgery 11/27/2017 Mastectomy: Left, Right; Reconstruction (left): Tissue expander placement; Reconstruction (right): Tissue expander placement