Log in to post a reply
Dec 31, 2018 02:28PM kdrake1007 wrote:
Happy New Year, cold cappers!
I am almost 10 weeks PFC and just completed rads this morning!!
As I close out 2018, I finally took the time to create a collage of the photos from my cold capping experience and I wanted to share with you and future cold cappers. I did the AC + T chemo and knew going in that my success was not a given. I'd say that I lost about 70-80%, but I still feel that I was successful and would do it again (hopefully I won't ever HAVE to!!).
So here is the photo story with dates. I had lots of very thick hair to start, which probably meant that I wasn't getting great contact with the silicone Dignicap cap, even though I soaked my head each time. In late August I was convinced I'd be completely bald before I stopped shedding. I did start wearing my hair in very loose braids in mid September, and I feel that helped slow down the shed for me. I had already started some regrowth at that point. I've had virtually no shedding PFC and I did get the "rat tail" of surviving hair cut finally as my regrowth was making it look like an unfortunate, funky mullet.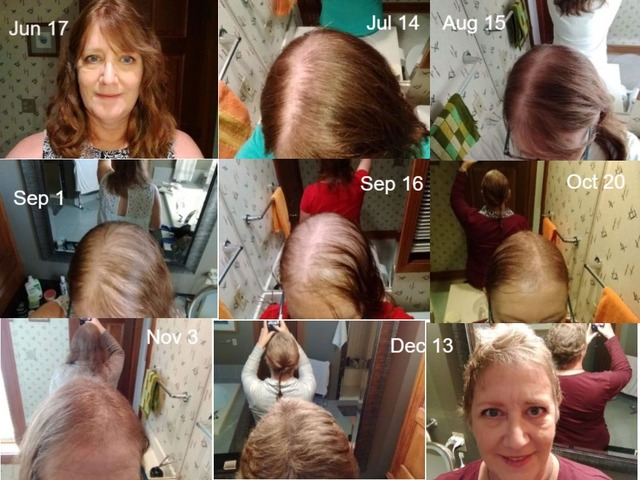 I saved the braid so I can use it as a match when I color my hair eventually.
I'm so happy I was able to cold cap!
Best of luck to those of you still in treatment! I hope your SEs and shedding are minimal!
Bring on 2019!!
Kim
Dx 3/15/2018, IDC: Tubular, Right, 1cm, Stage IIIA, Grade 3, 4/21 nodes, ER+/PR-, HER2- (IHC)
Surgery 4/16/2018 Lumpectomy: Right; Lymph node removal: Sentinel
Surgery 4/26/2018 Lymph node removal: Underarm/Axillary
Chemotherapy 5/31/2018 AC + T (Taxol)
Radiation Therapy 11/14/2018 Whole-breast: Breast, Lymph nodes
Hormonal Therapy 1/9/2019 Arimidex (anastrozole)
Targeted Therapy 1/31/2019 Verzenio