Log in to post a reply
Aug 26, 2020 09:18PM Beesie wrote:
Mysticmint,
As I was reading your post, the thought that entered my head was "Don't make your decisions based on what others did or what happened to someone else, make your decisions based on what's right for you." As I kept reading, I see that this is where you ended up, back with the original decision that your made.

I will add one fly to the ointment. I find your surgeon's explanation about recurrence risk after a lumpectomy to be a more precise than it should be. The simple fact is that until you have surgery, it's impossible to accurately know what your recurrence risk will be. Since you've had multiple screenings and biopsies, the surgeon should have as complete a picture as possible so hopefully the surgical pathology presents no surprises. But surprises are always possible and that could change the recurrence risk estimates. Even if the final pathology is as expected, with a large high grade DCIS, the size of the surgical margins is critical and there is no way to know that until the surgery is done.

Since you've been lurking, you may have seen some of my posts mentioning the Van Nuys Prognostic Index. There are various charts out there explaining how it works; the following chart includes a 10-year recurrence-free estimate. If you put what your currently know into this chart, it appears that your score, prior to surgery, is an 8. You get 2 points for age, 3 points for tumor size, 3 points for tumor grade. The missing piece is surgical margins. If your margins are nice and wide, 10mm or greater, then you add just one point. But if your margins are narrow, less than 1mm, then you add 3 points. So your total score could be a 9 or it could be as high as a 12. Look at the difference in recurrence risk estimates, just based on that difference in surgical margins.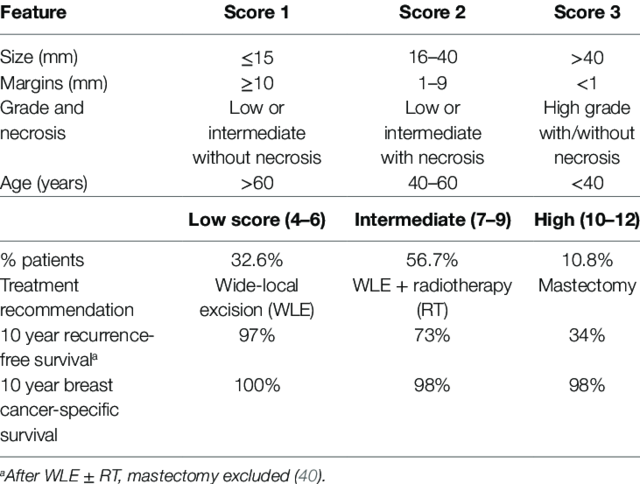 To be fair, the VNPI provides pretty high level estimates that average together lots of things, which means you can't count on it being very precise. All other things being equal, if someone were to end up with 8mm margins, at the high end of a "2" score, I doubt that their 10-year recurrence risk would be the same as it would be if they had 1.5mm margins, at the low end of the "2" range. But directionally, the model is correct. Larger area of DCIS, higher grade, narrower margins - each increases recurrence risk. So for your surgeon to say 1% a year for 10 years, before knowing the margin size but knowing that the DCIS appears to be large and is high grade, and knowing that the DCIS is ER-/PR- which makes you ineligible for endocrine therapy (which cuts recurrence risk by 50%), that seems extremely optimistic. And certainly recurrence risk doesn't stop at 10 years.

I guess the question is: At what recurrence risk would you change your surgical plan? If you are okay at 10%, would you be okay at 14%? And then the next questions are: How comfortable is your surgeon that she will be able to achieve wide surgical margins, and how certain is she about the recurrence risk estimate she provided to you, given the size of the DCIS and the grade?
"No power so effectually robs the mind of all its powers of acting and reasoning as fear." Edmund Burke