Log in to post a reply
Aug 28, 2020 06:51PM Beesie wrote:
The risk of recurrence with DCIS is very much tied to the surgical margins. DCIS tends to spread out in the ducts, so even more than with invasive cancer, wide margins are important for anyone considering skipping either hormone therapy or rads, both of which reduce recurrence risk by approx. 50%.

Unfortunately there are no really good models to estimate DCIS recurrence risk. I've been hanging around here long enough to have seen an extremely wide range of estimates provided by doctors. There also seems to be a default "1% a year recurrence risk" that many patients are told, whether the diagnosis/pathology is a small low grade DCIS with wide surgical margins, or a large high grade DCIS with narrow surgical margins. Yet I recall reading a study back when I was diagnosed in 2005 that found recurrence rates as low as 3%-4% for some diagnoses of DCIS and recurrence rates as high as 50% for other diagnoses of DCIS. So 1% risk per year regardless of the pathology? I don't think so.
One model that I include often in my posts is the Van Nuys Prognostic Index. It's very high level and the middle category in particular is too broad; all other things being equal, I doubt that someone with a 1.5mm margin will have the same recurrence risk as someone with an 8.5mm margin. But overall I think this is probably the best model out there.

Here are two VNPI charts. The first provides a treatment recommendation and recurrence risk for each score (you get your score by adding your points in each of the 4 categories). The second doesn't have the same detail by score, but shows what the recurrence risk would be for the high scores if the patient chooses to have a lumpectomy rather than a MX. The recurrence risk figures in the second chart, because they blend together several scores and scenarios, don't quite match up to the recurrence risk figures in the first chart, which is another reason to apply caution in using this model. But directionally the model is pretty good and might give you some idea of the range of recurrence that you face.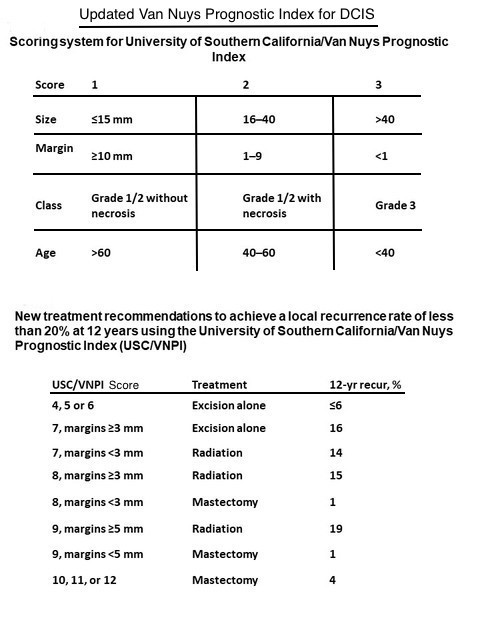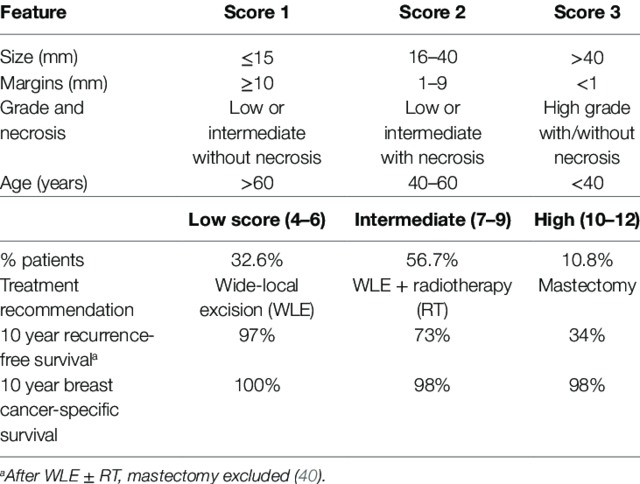 "No power so effectually robs the mind of all its powers of acting and reasoning as fear." Edmund Burke