Log in to post a reply
Apr 14, 2020 05:24PM AuthorSpot wrote:
Kris— I would say my worst days for fatigue were Day three after AC until day 8. I have had some acid reflux as well and since I already take Prilosec (I had esophagitis last year), I have been taking Tums. It's a good way to get extra calcium. Also, your picture was beautiful!


Erin—yay for joining us in St. Louis! The more the merrier. 😊
I'm here for my second AC treatment today. After they push the Adriamycin, my chest gets really heavy and breathing is an effort. It lasts a couple of days. But it could be because I have the nodules in my lung. 🤷🏻♀️ The nurse said not to worry unless it got a lot worse. Unfortunately, I've had allergic reactions enough to know what she means.

Here's a pic of me getting my infusion today.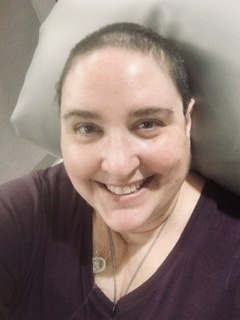 Love to all 💕💕
Dx 3/2/2020, IDC, Left, 6cm+, Stage IV, metastasized to lungs, Grade 3, ER-/PR-, HER2-