Log in to post a reply
May 13, 2021 07:58PM illimae wrote:
Tonight was about clearing the fridge. Leftover grilled pork rib, leftover beans and a quick fresh slaw. I'll be planning this weekend for the coming week to avoid lazy eating, which usually leads to little or no veggies.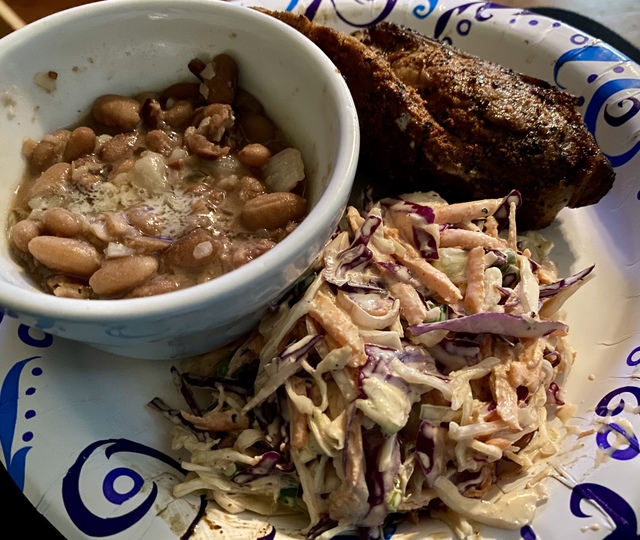 Diagnosed at 41 Stage IV De Novo
Dx 11/16/2016, IDC, Left, 5cm, Stage IV, metastasized to bone, Grade 3, 3/13 nodes, ER+/PR-, HER2+ (IHC)
Chemotherapy 1/2/2017 Abraxane (albumin-bound or nab-paclitaxel)
Targeted Therapy 1/2/2017 Herceptin (trastuzumab)
Targeted Therapy 1/2/2017 Perjeta (pertuzumab)
Surgery 6/26/2017 Lumpectomy: Left; Lymph node removal: Underarm/Axillary
Radiation Therapy 8/10/2017 Breast, Lymph nodes
Dx 10/5/2017, IDC, Left, 5cm, Stage IV, metastasized to brain, Grade 3, 3/13 nodes, ER+, HER2+ (IHC)
Radiation Therapy 10/20/2017 External: Brain
Radiation Therapy 4/18/2018 External: Brain
Radiation Therapy 5/23/2019 External: Brain
Surgery 1/22/2020
Radiation Therapy 2/17/2020 External: Brain
Radiation Therapy 7/20/2020 External: Bone
Radiation Therapy 12/4/2020 External: Brain
Targeted Therapy Tukysa (tucatinib)
Chemotherapy Xeloda (capecitabine)
Hormonal Therapy Tamoxifen pills (Nolvadex, Apo-Tamox, Tamofen, Tamone)