Log in to post a reply
Jul 24, 2021 06:14PM Beesie wrote:
There is a other thread on this:
Topic: New approach eradicates breast cancer in mice
https://community.breastcancer.org/forum/73/topics...

Unfortunately, the chances that any mouse trial will turn into a treatment that works on humans is slim:
Lost in translation: animal models and clinical trials in cancer treatment
https://www.ncbi.nlm.nih.gov/pmc/articles/PMC39022...

"Animal models have not been validated as a necessary step in biomedical research in the scientific literature. Instead, there is a growing awareness of the limitations of animal research and its inability to make reliable predictions for human clinical trials. Indeed, animal studies seem to overestimate by about 30% the likelihood that a treatment will be effective because negative results are often unpublished. Similarly, little more than a third of highly cited animal research is tested later in human trials. Of the one-third that enter into clinical trials, as little as 8% of drugs pass Phase I successfully."

After Phase I trials, there are Phase II and Phase III trials. Only 19% of drugs from Phase I trials end up being approved.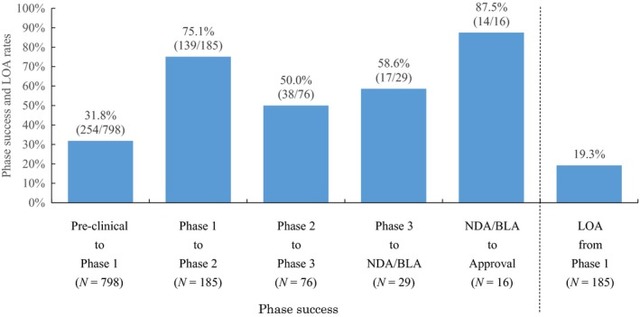 The Current Status of Drug Discovery and Development as Originated in United States Academia: The Influence of Industrial and Academic Collaboration on Drug Discovery and Development
https://www.ncbi.nlm.nih.gov/pmc/articles/PMC62261...
Doing the rough math, it puts the likelihood of success at 1/2 a percent. And from what I read, the average timeline is 12 years.

That's not to be negative, but realistic. I've been hanging around 'breast cancer world' for a long time and I've seen many of these amazing mouse studies. So far, I've seen no drugs for patients that come anywhere close to the same success.

But, maybe one day!
Dx 9/15/2005 Right, 7cm+, DCIS-Mi, Stage IA, Gr 3, 0/3 nodes, ER+/PR- ** Dx 01/16/2019 Left, 8mm, IDC, Stage IA, Gr 2, 0/3 nodes, ER+/PR-, HER2- (FISH) ** Surgery 11/30/2005 MX Right, 03/06/2019 MX Left ** Hormonal Therapy 05/2019 Letrozole