Log in to post a reply
Feb 13, 2021 10:13AM exbrnxgrl wrote:
This was taken right after I got home. I was so loopy! My eyes, though smiling due to good drugs, look like swollen slits! Older daughter and granddaughter stayed over last night and younger dd will be on day duty today. That should be the end of their TLC assuming all is well. They both live close by if needed (well older dd and grand left for NJ today, but younger dd is available). That's my first born reflected in the mirror.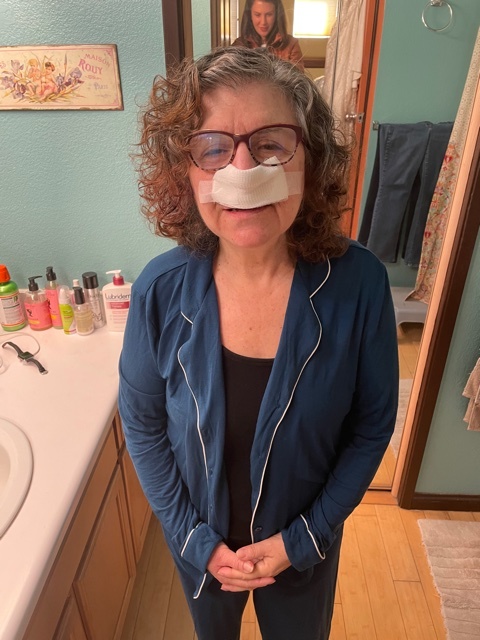 Bilateral mx 9/7/11 with one step ns reconstruction. As of 11/21/11, 2cm met to upper left femur
Dx 7/8/2011, IDC, Left, 4cm, Grade 1, 1/15 nodes, mets, ER+/PR+, HER2-
Surgery 9/7/2011 Lymph node removal: Left; Mastectomy: Left, Right; Reconstruction (left); Reconstruction (right)
Dx 11/2011, IDC, Left, 4cm, Stage IV, Grade 1, 1/15 nodes, mets, ER+/PR+, HER2-
Hormonal Therapy 11/21/2011 Arimidex (anastrozole)
Radiation Therapy 11/21/2011 Bone
Hormonal Therapy 6/19/2014 Femara (letrozole)
Hormonal Therapy Aromasin (exemestane)