Log in to post a reply
Oct 13, 2019 10:16PM - edited Oct 13, 2019 10:17PM by Beesie
Meow, the 6% with high Oncotype scores who did not receive chemo were "non-compliant", since these results come from the TAILORx study and all participants with scores of 26 and higher were assigned to have chemo. So it wasn't a matter of choice; it was the study that determined that everyone with a high score would get chemo.
What this means is that while this new report is very favorable for those who have chemo + endocrine therapy, the comparative information provided about the benefit of chemo versus endocrine therapy alone is actually just an estimate using extrapolated data from a very small sample in the NSABP B20 study.
For those with Oncotype scores of 26-30, the TAILORx distant recurrence-free rates were 94.6% at 5 years and 88.5% at 9 years for patients who had both chemo and endocrine therapy. This is compared to the estimated rates of 89.6% at 5 years and 80.6% at 9 years for those who had endocrine therapy alone, based on the estimate extrapolated from the B20 study. So 5% extra metastatic risk reduction benefit from chemo at 5 years and 8% at 9 year. That seems positive.
But what if the estimates calculated from the B20 study are off by 4% or 5%? As the chart below shows, for patients with Oncotype scores 11-25 who had endocrine therapy only, TAILORx found lower metastatic recurrence rates than B20. Using a 20 score as an example, B20 projected a 10% rate of mets with endocrine therapy alone whereas TAILORx projects only a 5% rate of mets. This is a chart from Genomic Health (the Oncotype people). Compare the top and bottom charts for the 11 to 25 scores, the area highlighted in green. The bottom chart, the TAILORx results, shows approximately half the recurrence rate as the top chart, the B20 results, when comparing the "Hormone Therapy" only line.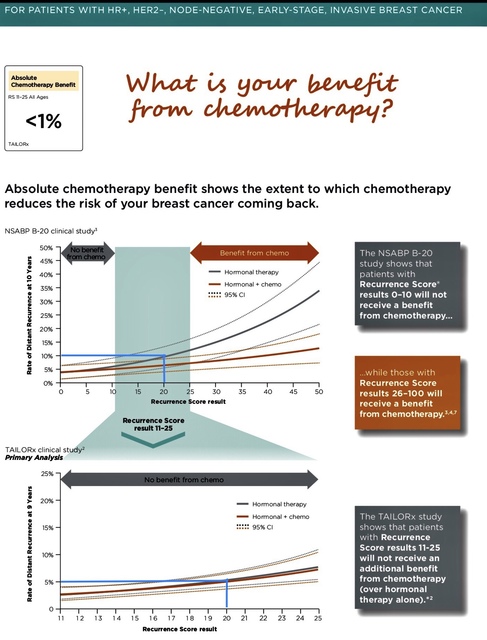 If this same difference between the two studies extends to higher scores, which is logical but we can never know since TAILORx didn't include a hormone therapy only arm for the higher scores, it would wipe out most of the estimated (using B20) benefit of chemo for patients with scores of 26 to 30.
Above a 30 score, the estimated difference between chemo + endocrine therapy vs. endocrine therapy alone is much greater, so even if the endocrine therapy only estimate is off by 4%-5%, the benefit from chemo would still be significant.
All this to say that this new analysis of TAILORx is interesting and reassuring for those with scores above 30. However for those with Oncotype scores of 26-30, to my reading, there is still no reliable data on what benefit chemo might provide vs. endocrine therapy alone.
Dx 9/15/2005 Right, 7cm+, DCIS-Mi, Stage IA, Gr 3, 0/3 nodes, ER+/PR- ** Dx 01/16/2019 Left, 8mm, IDC, Stage IA, Gr 2, 0/3 nodes, ER+/PR-, HER2- (FISH) ** Surgery 11/30/2005 MX Right, 03/06/2019 MX Left ** Hormonal Therapy 05/2019 Letrozole