Log in to post a reply
Nov 4, 2018 01:23AM PebblesV wrote:
@Jadedjo - Peace of mind with your decision is the best thing and what you need to persevere. I was super anxious and unsure until I made a decision to not do chemo but do the radiation and tamoxifen (I will try and brave through the side effects yes) and do what I can with nutrition and exercise. Once I had that path, I just felt more clear-headed, the anxiety went away (I was SOooo anxious before, I can't even explain it, when I got a good reason to back up my no chemo decision it was like a cloud had lifted) and I feel ready to tackle this now.
Something interesting I read from people who beat cancer naturally, they just decided they would succeed. Not that thinking that works every time, but I like the point of view. I chose this path so I'll do everything I can to succeed at it!
By the way, I've also had reasons I couldn't exercise (lumpectomy, then pulling eggs etc.) so if it helps, I lost 6 lbs this past month without exercise, and 12 lbs total the past 2 months (about 6 lbs a month)! Changing up the diet goes a long way. I do plan on exercising soon and that should help get me past any plateau. I have lost 20 lbs (just on nutrition changes alone) and have 20-30 more to go, so maybe we can do this weight loss journey together!
Anyways wishing you the best with next steps and glad you feel so set in your decision. I know you don't think you're strong but actually making that decision and holding to it is strength! I hope you feel encouraged along the way. I'll share any tips I find on boosting metabolism because I have to do the same thing.
And, re: not feeling alone, here's my little emotional support pup hanging out with me during my first week of radiation treatment (which went fine, no side effects so far). I still stand by my reco for you to think about rescuing a dog who needs you as much as you need him / her! 🤗🐶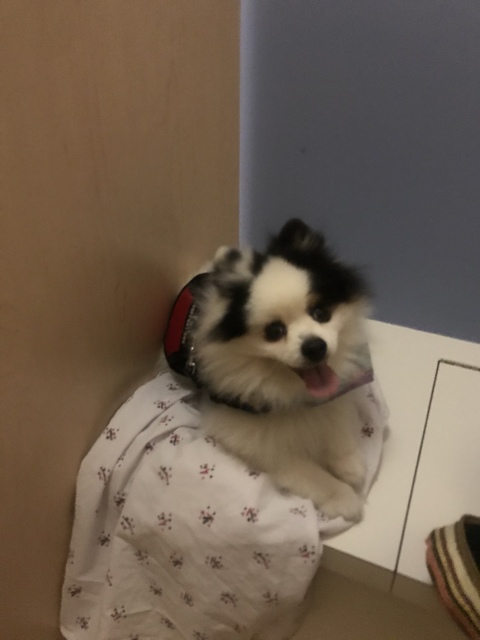 Dx 9/7/2018, IDC, Right, 1cm, Stage IIA, Grade 2, 2/2 nodes, ER+/PR+, HER2- (FISH)
Surgery 9/19/2018 Lumpectomy: Right; Lymph node removal: Sentinel
Radiation Therapy 10/29/2018 Whole-breast: Breast, Lymph nodes
Hormonal Therapy Tamoxifen pills (Nolvadex, Apo-Tamox, Tamofen, Tamone)